What Is the Best Concealed Carry Gift: Three Concealment Options for Christmas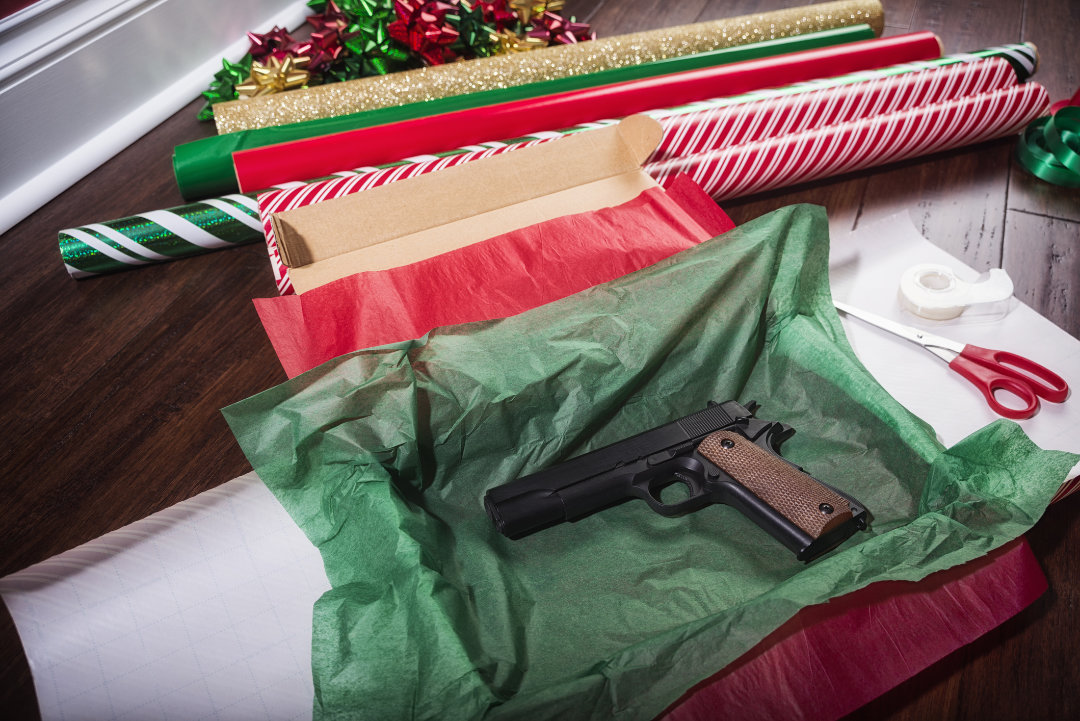 Jump to:
As the holidays get closer, it's easy to become stressed by the prospect of finding everyone the perfect gift (or ones that can fit your budget) rather than enjoying time with family and other seasonal festivities. The analysis paralysis loop can quickly deprive you of joy during the most wonderful time of the year. 
If you feel stuck looking for the best present, you're not alone. According to a survey on holiday gifting, a majority of shoppers wish they had help when it came to selecting a gift for their loved ones. It's easy to feel insecure about a gift regardless of how well you know the person you're buying for. Luckily, if you're looking for a present for a proud firearm owner, Liberty Home Concealment has some of the best concealed carry gift options to make shopping a breeze!
Stick with us to get some great gift ideas for the gun enthusiasts in your life. 
Why Our Concealment Flags and Furniture Are Great Gift Ideas for a Gun Enthusiast
If you aren't deeply invested in the world of gun ownership or concealed carry, you may feel like you are out of your element when it comes to purchasing a gift for the concealed carrier in your life. However, a piece of concealment furniture, concealment decor or concealment flags offer a unique, personal gift that you can order in a cinch.
Why are these products perfect for the gun enthusiast in your life? Here are our top five reasons why these items are the best gifts for concealed carry.
They are discreet and offer a layer of security.

Concealed carriers know how important it is for their firearms to

stay hidden

and

secure

while carrying them every day. This sentiment can be carried into the home with concealment furniture. Unlike a large, bulky gun safe, these concealment options look like regular decor and furniture. Plus, many concealment items come with

magnetic or RFID locking mechanisms

to keep the firearm more secure than

storing it loosely in a nightstand

,

drawer or cabinet

.

They are handcrafted.

First and foremost, you know your loved one is getting an excellent gift that will last.

Handmade in the U.S.

, a well-built concealment flag is a sturdy spot for gun storage. 

Flags and decor can be personalized.

Some options can be

personalized

, which can add a special touch and let them know how much thought you put into their gift.

They fit a variety of gun types and sizes.

Our gun concealment products cover a wide variety of firearms. No matter which option you choose, you are bound to pick a concealment item that works well for your loved one.

They are perfect for any spot in the gun enthusiast's home.

It's easy to visualize how a concealment item will

fit into your loved one's home

. The variety of sizes, formats and looks gives you plenty of options. 
If you're interested in our concealed carry gift ideas but need more inspiration, let's cover how these fantastic pieces can fit into your gun enthusiast's home. 
The Best Concealed Carry Gift: Three Options 
Concealed Carry Gift Idea #1. The Wooden Gun Concealment Lamp for Quick Lounge or Bedside Access
Most concealed carriers want to be able to access their firearms whenever there is immediate danger. The wooden gun concealment lamp allows them to keep a handgun nearby when relaxing. It's perfect for storing a primary defense handgun and extra ammunition.
Concealed Carry Gift Idea #2. Concealment Wall Art for a Personal Touch
If you want to give your gun enthusiast something with a little more flair, concealment wall art is a great start. Not only do these signs give your loved one quick access to their firearm, but they also elevate the look of their favorite space. Whether they spend a lot of time in their man cave, home office, shop or garage, concealment wall art will fit right in.
Concealed Carry Gift Idea #3. The Classic Concealment Flag for Patriotic Pride
The concealment flag adds the classic look of the United States flag to any space. The concealment flag is our most popular item due to the iconic look of our nation's banner. Not only can you get a great patriotic look in your loved one's home, but you can also add a personalized message or pick a unique flag style to fit their occupation or personality.
Which Should I Buy?
If you're having difficulty choosing between the assortment of concealment options for your gun enthusiast, we recommend starting with the Mini American Flag Gun Concealment Case. It's our most popular seller, and it's the perfect entry into concealment furniture and decor. You don't have to dedicate an immense amount of wall space for it, but it is still large enough to make a statement in your loved one's space of choice.
Why Buying Earlier Is Key to Success
You may have heard that the earlier you shop, the better. However, in the case of getting a high-quality concealed carry gift, it's imperative! 
Customized, handcrafted gifts can take longer to ship.

The

demand for personalized and handcrafted gifts

has grown rampantly. While you have plenty of options, crafting a seriously awesome present can take time. If you need that fantastic gift under the tree by December 25th, you don't want to wait around.

You can take advantage of early-bird shopping deals.

Many retailers run deals in early November before Thanksgiving to encourage you to shop early. Take advantage of the competition and get a great gift at a discount.

You can spread out your Christmas present spending.

At the end of the day, we only have so much to spend on our loved ones. When you shop early, you can spread out the pressure on your wallet. 
The IOU Christmas Gift: Dressing Up an Incoming Concealment Present
Sometimes, you just can't order every present as early as you would like to. If you don't order early, there are still a few ways to make the gift exchange exciting without having it in hand. 
The IOU Christmas gift is still a gift that we're sure your concealed carrier will love. You can print out the order confirmation or specific product page and place it in a normal gift box. Not only does this give you a little extra time, but it also gives you a little extra room under the tree.
Finally, if all else fails, you can always grab a Liberty Home Concealment gift card. This takes the pressure off of you and gives your loved one a chance to pick out the ideal piece for their home. You can't go wrong either way.
Find the Concealed Carry Gifts at Liberty Home Concealment
You can find great concealed carry gifts on our
products page
. Liberty Home Concealment carries a wide variety of home concealment products in many styles, finishes and sizes. There is bound to be a perfect fit for your loved one's home. If you have questions about what you should go for, take a trip to our
contact page
to get in touch with a knowledgeable team member!
---