Guide to Choosing the Right Concealed Carry Gun Belt!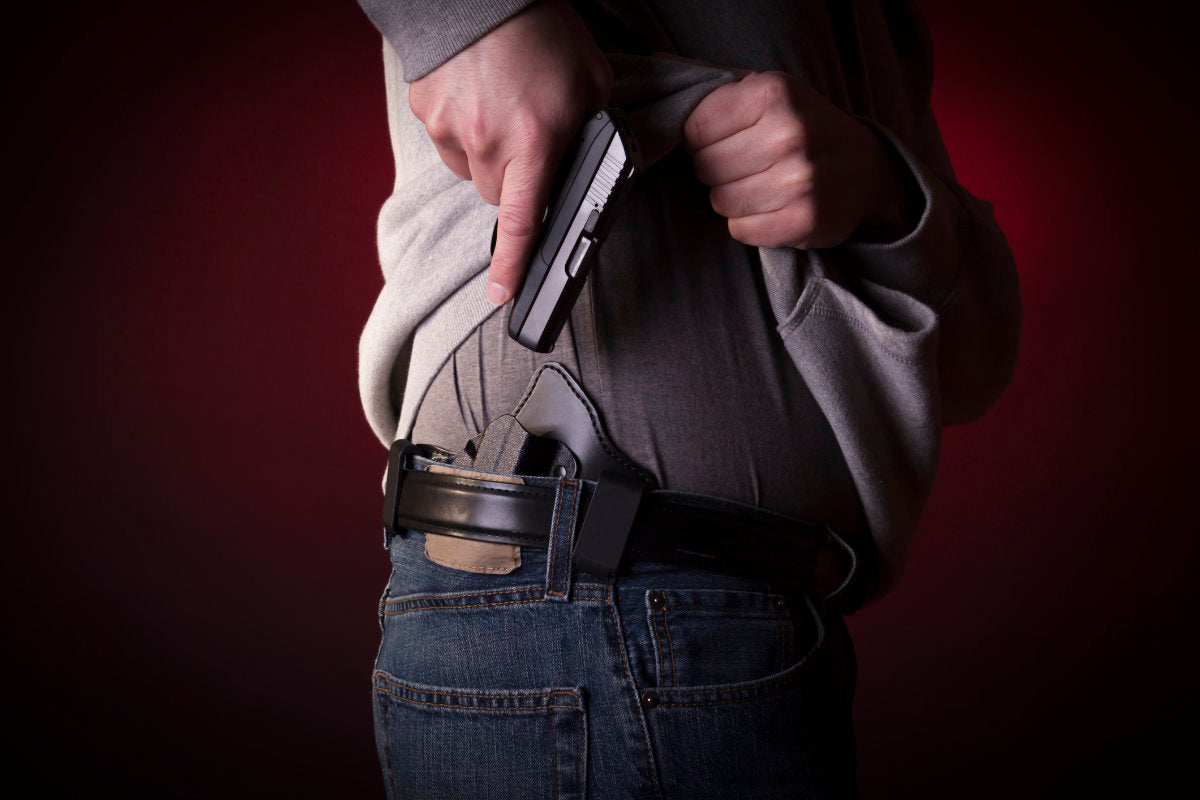 Reading Time: 2.5 minutes
Jump to Section:
For all of our OWB and IWB carriers, a cheap belt can be detrimental to the security and concealment of your firearm. Whether you're getting your first belt for concealed carry or looking for a new option, check out our quick guide of four helpful tips for choosing a concealed carry gun belt.
First Things First: What is a Concealed Carry Gun Belt?
A concealed carry gun belt is a belt that's designed and manufactured to accommodate the heft of a firearm. An ordinary belt can only hold up the weight of pants or other garments, which means a gun's weight can cause a normal dress belt to sag or twist if you use one for daily carry.
A fully-loaded pistol can weigh anywhere from a pound to over three pounds. This number doesn't include the extra gear you may carry, like a spare magazine. Gun belts have added rigidity and adjustability versus department store belts to hold the excess weight and maintain their shape. 
4 Helpful Tips for Choosing a Concealed Carry Gun Belt
When you start looking through belts, it can be overwhelming to find the right one. So, it's essential to create a list of features you want to have to narrow down the field. Here is a list of four three helpful tips on features that can make or break your setup:
1. Prioritize Overall Coherence with Your Daily Attire
Like every element of your concealed carry setup, you need to make sure that your belt draws minimal attention. Your belt should blend with your outfit. You will need multiple belts to accommodate different settings. 
2. Choose Adjustability and Customizability
Your belt should work with different types of clothing and sizes of firearms. The more adjustment points your belt has, the more versatile it will be. 
3. Only Buy Rigid Belts with Quality Construction
You don't want to cheap out on the quality of the gun belt. It must withstand use and should hold up for sitting and standing.
If you don't have a ton of cash to spend, that's okay. You can find durable, dependable gun belts starting at $35. A good gun belt should have a core of composite plastics, vinyl acrylics or metal.
4. Consider Reading Concealed Carry Belt Reviews
Whenever you're looking through different types of firearm belts, you can comb through customer reviews to gather more information.
The critical thing to remember is that there isn't a one-size fits all approach to gun belts. Some customers may like a belt that won't work for you and vice versa.
Look for a belt with features that are important for your EDC and fit your budget, then look through customer reviews to determine if you should purchase it.
Other Concealment Options for Your Home
If you've carefully assembled the perfect everyday carry setup, you may want to look into finding concealed options for your living space, home, workshop or other personal settings. Liberty Home Concealment offers concealment flags, wall art, decor and furniture that can help you stage firearms around your home, allowing you to have peace of mind when your gun isn't on your person. 
Browse our line of concealment products today to find the perfect storage solution for your home. 
Have a question? Visit our contact us page to get in touch with a knowledgeable team member.
---