Product Guide: 3 Compartment Concealment Case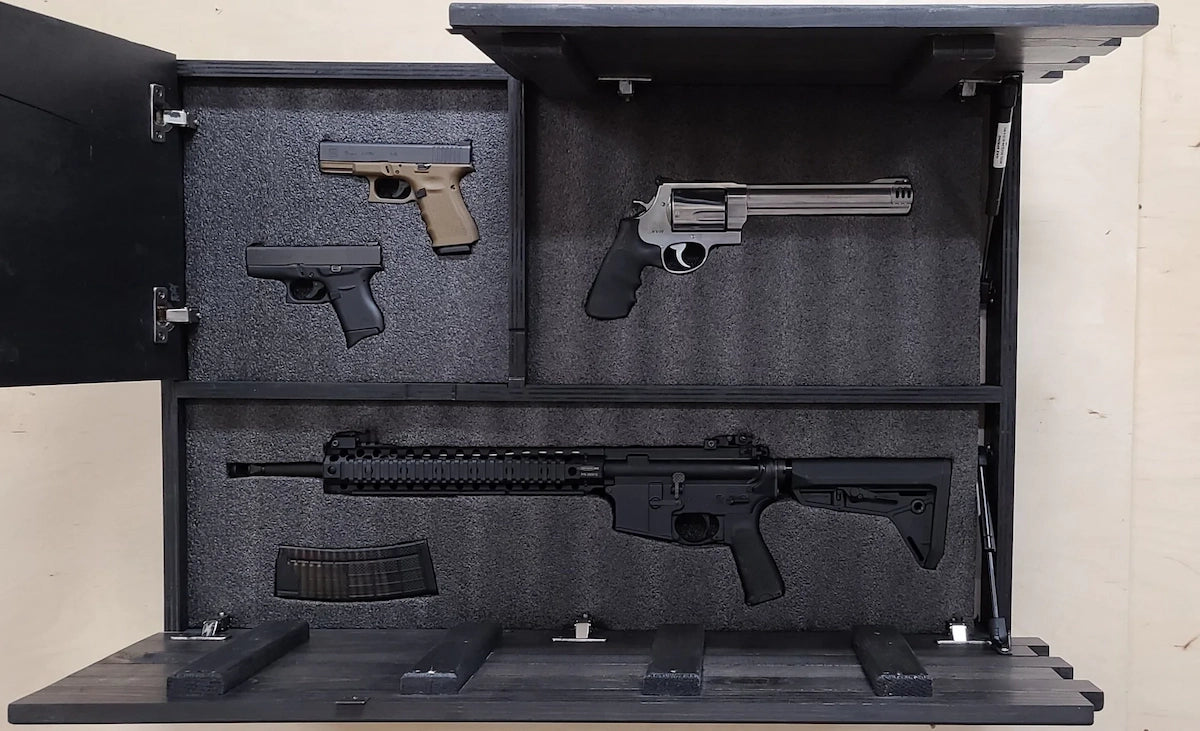 Jump to Section:
Gun concealment and storage can be a significant investment, so it's a good idea to do some preliminary research before buying.  We want to ensure anyone considering a Liberty Home Concealment firearm concealment product gets exactly the right product  for their specific firearm storage needs.
This article covers one of our most popular storage options: the Deluxe 3 Compartment Gun Concealment Case. Continue reading for pro buying tips and some ideas on how you can make the most of this American flag hidden gun case.
Why Is The 3 Compartment Concealment Flag so Popular?
If you're reviewing gun concealment options for your home, you may wonder why the triple-compartment setup is one of our most popular options. Simply put, most gun owners have multiple firearms. In one Pew Research Center survey, 66% of respondents who owned a gun said that they have two or more.
Eighty percent of gun owners cited more than one primary reason for having a firearm. While personal protection was atop the list, sports shooting, hunting and collecting were also significant reasons for gun ownership.
It's essential to have a safe way to store multiple firearms. This need is why we wanted to create a concealment option that could house multiple firearms with numerous compartments, eliminating the need for separate gun cases or safes. This flag can become the tactical center of your home once you've got it on the wall.
7 Tips for Using Your 3 Compartment Concealment Flag
#1. Find the perfect spot to hang your multi-compartment concealment flag.
Finding the right spot for your flag is essential for all of our concealment products, but it is especially critical for the three compartment option as it is one of the largest pieces of wall decor in our lineup. Not only do you need enough wall space for it, but you also need to ensure it is high enough to be inaccessible to unauthorized users. You also want it to have enough room for all compartment doors to open fully.
Following our hanging instructions, you can place this flag in any room and instantly turn it into your firearm hub. The flag's placement will depend on what type of firearm you want to store inside. Do you want to have your primary home-defense weapons inside of it, or would you prefer to keep antique and sporting firearms concealed? 
If you want to use the flag for home defense, it must be in an accessible area away from your main entryways or exits, as an intruder could cut off access immediately upon entering your home. 
If you're a long-time firearm owner or have lived in your home for a long time, you probably have the perfect spot in mind. If you're new to gun ownership or recently moved to a new home, you may want to draw up a new home-defense strategy to find the perfect location for your new flag.  
While the flag does a great job locking up your firearms, it doesn't create an airtight seal. You'll want to ensure the gun cabinet is in a controlled climate to prevent extreme temperature and moisture-related damage.
#2. Measure your firearms to ensure a perfect fit.
Once you find a space in your home for the flag, you want to ensure that your firearm will fit inside its new case. With the largest compartment being 10.5" x 35.25" x 2.25", it will stow a substantial range of rifles and handguns. However, shotguns, long hunting rifles or large antique guns may require a bigger storage option like our concealment coat rack.
#3. Use a compartment or extra space around the firearm cutout for extra ammunition, tactical items or magazines.
The greatest value offered by these three compartments is the ability to separately store and lock up multiple firearms in one location. This way, you can access the firearm you need without having to sort through your other guns. You can get the gun you need when you want it with no distractions. 
However, the three compartment concealment flag is completely customizable through the magic of the Kaizen foam included with the gun cabinet. So, you can utilize the space around your firearm to place extra ammunition or other tactical items, such as a knife, flashlight or small first-aid kit. 
#4. Place other valuables in the smallest compartment for safekeeping.
Outside of extra ammunition and tactical items, you can also store other valuable and daily use items inside your concealment flag. The smallest compartment of the flag can hold essential items, including but not limited to your wallet, keys and jewelry that you want to lock up tight throughout the night.
While a fireproof safe is a good option for critical documents like a social security card or birth certificate, your concealment flag can easily store items you use daily, reducing the chances of them being misplaced or stolen.
#5. Upgrade your flag's security and accessibility with an RFID lock.
If you are strongly considering a three compartment concealment flag, upgrading the included lock system to an RFID lock is a smart idea. While our standard magnetic lock system is secure, RFIDs add extra protection and convenience as the access card can easily be placed in a pocket, wallet or hidden in another item for a quick unlocking process.
To learn more about RFIDs and magnetic locks for gun cabinets, check out our article comparing and contrasting the two security systems.
#6. Add motion-activated LED lights for extra visibility.
If you hear something "go bump in the night," you need to be able to see what you are doing to defend yourself adequately. Adding motion-activated lights can boost visibility in any of our firearm cases. We recommend you add a light to each subsequent compartment, so they are all ready to access in low-light situations.
#7. Pick a color and finish that complements your other decor and room color.
Our final piece of advice to make the most of your three compartment concealment flag is to purchase a color or finish that fits in with the decor of the room you plan to place it in. After all, our concealment flags are stylish works of craftsmanship, so they should make a statement in your home.
With a variety of colors, finishes and customization options, we have the perfect concealment case for your home. Check out our full lineup of
concealment products
. If you have questions or want to learn more about our products, visit our
contact page
to get in touch with a team member today.
---