How to Find the Best Quick Access Pistol Safe for You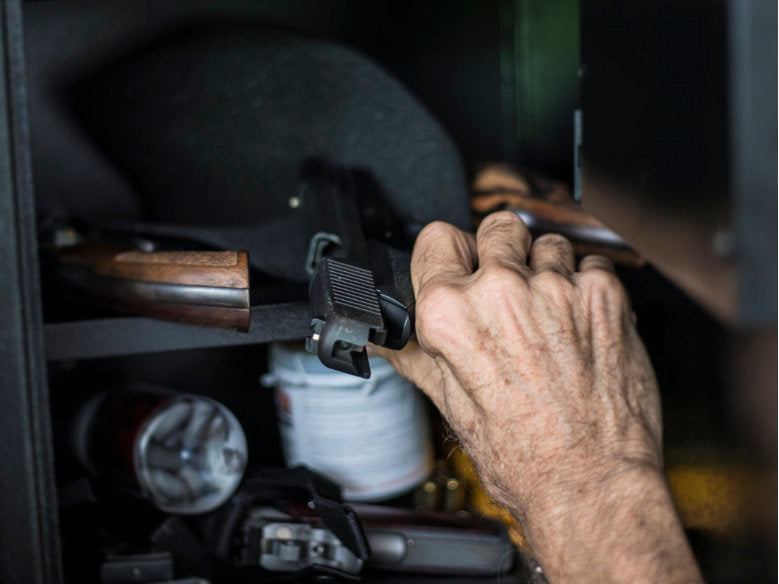 Jump to:
There's no such thing as having too many options, right?
If you've spent time trying to find the perfect storage solution for a pistol or other defensive firearm for your home, you may have run into a bit of analysis paralysis with all of the options that exist. There's no shortage of safes, lock boxes, cabinets and other storage methods that try to give you the right amount of security and accessibility. You want your firearm to be securely stored, but you also want it to be readily accessible in an emergency. The desire to find the perfect option can lead to long hours of research, combing through countless reviews, features and offerings. 
While we can't completely eliminate the need to do your homework, we hope to help you focus your efforts on finding the best quick-access pistol safe for your situation. Let's better define quick access, look at standard features of gun safes and lay out a process to help you find the best option. 
What Is the Best Quick-Access Pistol Safe?: Defining Quick Access
Before determining the best quick-access pistol safe for you, we need to look at what should be considered "quick access." Not all factors of your firearm being readily available are a part of the safe's design. Your response time, placement of the firearm in the house and efficiency at unlocking your gun safe are all crucial when it comes to warding off an intruder. 
According to ADT, the average home burglary takes between eight to 10 minutes, with some taking as few as 90 seconds. While your presence alone is usually a substantial deterrent to home intruders, you want to make sure you can find a safe that you can access within 90 seconds to retrieve your firearm. While 90 seconds may be a generous amount of time, given that an intruder may be in your home when you realize the danger, it can serve as a baseline of accessibility in a moment of need.
It's a great idea to make a quick-access safe a part of your solid home defense strategy. A plan could help you get through the initial adrenaline rush of the dangerous situation and successfully get your family to safety and access your firearm if needed. Read more about how to prepare for an intruder here. 
Now that we've provided a baseline for quick access. Let's take a look at how secure your gun safe should be. 
Finding the Best Quick-Access Pistol Safe: What Features Do Safes Usually Have?
Gun safes are one of many secure gun storage options. According to the Bureau for Alcohol, Tobacco, Firearms and Explosives, for a firearm to be considered a secure storage or safety device, it needs to do one of the following:
A device that, when installed on a gun, is designed to prevent firearm operation

A device that is incorporated into the design of the firearm to prevent the operation by anyone who shouldn't have access

A safe, gun safe, gun case, lock box or other device that is designated to be or can be used to store a firearm and is designed to be unlocked only by means of a key, a combination or other similar means
Gun safes are one form of secure gun storage safety. While they can vary greatly in size and security level, most gun safes have the same basic elements: 
A metal exterior

- The exterior is designed to discourage theft or unauthorized access, so most safe companies use some type of metal exterior for their safes. The security and durability of the metal can greatly vary, which is why Underwriters Laboratories, an organization responsible for the safety of consumer products, developed performance levels for safes, also known as the

Residential Security Container Standard

. You can use this rating to get a general idea of how secure a safe is. 

Boltwork

- Safes use a system of bolts that lock into place whenever activated. 

A locking mechanism

- Many locking mechanisms are combination locks with multiple combinations that can be programmed or added. However, keys and digital locking mechanisms can work as well. 

Inaccessible hinges

- A safe shouldn't have accessible hinges from the outside, as they could be easily removed and defeat the purpose of the safe. 
Finally, let's take a look at ways you can find the best quick-access pistol safe for your home. 
How Do I Find the Best Quick-Access Pistol Safe for Me?
There are a few things you should do to help you narrow down your search for the best quick-access pistol safe for your situation. Here are a few quick tips to help you make the best purchasing decision possible:
List out your goals for your quick-access pistol safe -

Think through the scenarios where you would need a quick-access pistol safe. Do you want it

in your bedroom

for late-night protection? Do you want to keep it near the desk in your office or other indoor workspace to be prepared for a potential intrusion during the workday? Is the hallway closet accessible yet discreet enough? Write out the situation you would need a storage solution for. Then, you can prioritize the features of your top choices to fit your scenario best. 

Find the ideal place in your home -

Whenever you start to look for a storage option, you need to consider where you plan to place it. Do you want it to be on the ground or the wall? Do you plan on integrating the safe into your wall? Once you know where you want it to go, this will narrow down the options you can utilize. Make sure to double and triple-measure the space. The last thing you want to deal with is a safe that's too big for your ideal spot. 

Review the accessibility features -

It's essential to make sure your potential storage option is easily accessible in a self-defense situation. Fumbling with a combination lock or trying to remember a passcode is not ideal during a home invasion.

Magnetic locks and RFID tags

are easy ways to access your firearm storage option, and you can keep the keys hidden in your wallet or nearby decorations for quick but hidden access. 
Once you've taken these steps to determine which safe or other secure storage option you need, you can make the overwhelming list of products a lot more manageable and get the best solution for your situation. 
Find More Than a Gun Safe
While a gun safe is the best option in some instances, the flexibility and discreet nature of a concealment flag, decor or furniture may offer you the best balance of security and ease of access. The best quick-access pistol safe may not be a pistol safe at all but, instead, a concealment flag. 
Want to learn more about our concealment products can fit your needs? Visit the contact page to get in touch with a knowledgeable team member today.
---